Jafar Panahi has been making a mark in cinema for many years. Due to many years of conflict with the Iranian government over the contet of his film, Panahi was arrested in March 2010 along with his family and some close friends, and charged with propaganda against the Iranian government. Later that year, he was imprisoned and given a 20-year ban on directing any movies, writing screenplays, giving any form of interview with Iranian or foreign media.
In 2010, Panahi completed a documentary feature, This Is Not a Film, in the form of a video diary in spite of the legal ramifications of his arrest. The film was was smuggled out of Iran in a flash drive hidden inside a cake and shown at the 2011 Cannes Film Festival. Fast forward to the last few years, Panahi now has been living under house arrest along with restrictions on travel.
In his latest film, No Bears, Panahi plays 'Jafar Panahi', himself but also a fictionalized version of himself. He is a filmmaker who has rented a room in a remote village in Iran near the Turkish border. With next to no Wi-Fi connection, nosey and oftentimes untrusty villages, he is making another film using his mobile and laptop with the aid of his trusty assistant director, Reza (Reza Heydari), set up in Instanbul.
In order to make the film, Reza crosses the border legally to bring Panahi rushes on a hard drive. There, they talk about the film and how to continue with the plot. One night, Panahi even considers crossing the border himself, only to turn back in fear of repercussions.
The film within the film centres on an Iranian couple living in Turkey, Zara (Mina Kavani) a waitress and her husband Bakhtiyar (Bakhtiyar Panjeei). They are desperately trying to obtain passports to escape the continent. Turns out Kavani and Panjeei are a real-life couple; making this an even more poignant part of the film.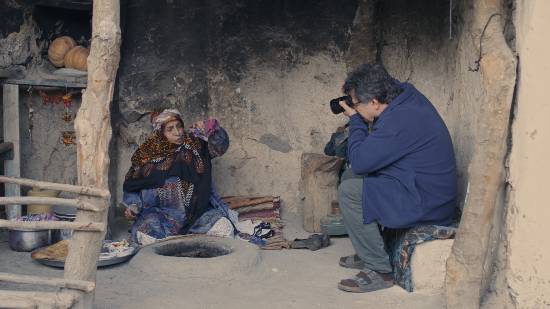 Parallel to Zara and Bakhtiyar's story, is another story unfolding in the rural village where Panahi has been living. A young woman, Gonzal (Darya Alei), has been suspected of clandestine meetings with Soldooz (Amir Davari), a young man who is not the man Gonzal is expected to marry. The village elders and Gonzal's fiancé Yaghoob (Javad Siyahi) claim Panahi has captured one of these clandestine meetings in one of the many photographs he has taken while roaming the village. The elders, led by the village sheriff (Naser Hashemi) believe Gonzal must marry Yaghoob in order to settle a years-long dispute between two local families.
The villagers, especially the male elders, demand Panahi produce this photo. Over the course of a few days, polite requests escalate to threatening demands. As local traditions go, they eventually request he takes an oath to confirm he does not have said photo. The idea here is to observe local customs, not so much to be truthful, as the sheriff hints to Panahi.
The village itself has little money coming in due to a drought that has almost collapsed all farming. The locals now resort to smuggling goods and people across the border; an area heavily monitored by gangs who will kill anyone without money to pay a bribe. All this, plus Panahi's obvious stay at the village is creating turmoil.
At the same time, the film in Turkey is falling apart. The actor couple are angry at Panahi, whom they see as taking advantage of their real-life situation… their want to escape Europe, that is.
No Bears is a multi-layered film filled with allegory, humour, and a humanistic outlook. There are moments in the film where Panahi interacts with the woman who's house he is living in that bring on some humour to the mix. At the same time, the parallel stories serve as allegory to the current state of affairs in that region of the world. The villagers represent a regime that will not allow change, and the fictionalized Panahi embodies those that 'rebel' and want change.
All of Panahi's work is deliberately political. No Bears remind us that art is political and that in Panahi's case, it is a necessity.