Gigi Saul Guerrero is a Mexican filmmaker and actress. She graduated with Honors with a B.A. in Motion Picture Production from Capilano University. Her career started early with several short films including, Dia De Los Muertos, Madre de Dios, and Bestia.
Gigi is also the co-founder of Luchagore Productions, which allowed her to work on projects that were passion projects and hone in her filmmaking style. She gained recognition for creating and directing the 2017 horror web series, La Quinceañera.
I began following Gigi's career and work thanks to the Blood in the Snow Film Festival (BITS). It was there that I watched her early short films and was able to get to know more about her.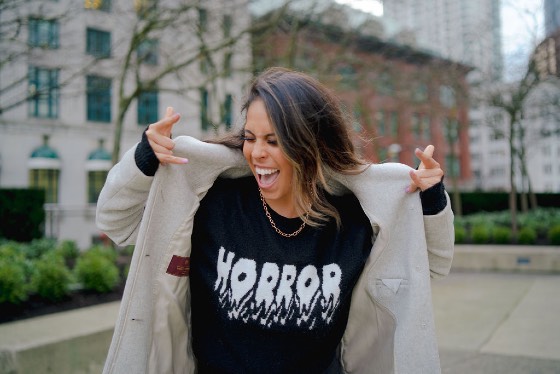 As an actor and director, Gigi has kept quite busy over the years. She took a chance and flew to Los Angeles to find more directing work, and she is also does voice work on Supernatural Academy, an animated series based the Young-Adult fantasy books by Jaymin Eve.
Gigi has been praised as one of the top emerging directors in the horror genre by Empire, Dread Central, Bloody Disgusting, and Creators.co. The accolades are more than well earned and deserved. I really appreciate Gigi's passion for genre films, her filmmaking process, and representing latinxs in front and behind the camera.
If you are looking to see more of Gigi's directing work, I encourage you to watch Bingo Hell (Amazon Prime), and Culture Shock (Hollywood Suite in Canada). They are excellent examples for her keen attention as a director with a good handle on both horror and comedic elements. Highly recommend these films. Look out for Gigi's next film about singer Jenni Rivera, who was known for her work in the Regional Mexican music genre (Banda). This is Gigi's first non-horror film, and I for one, am very excited to see it.
I had the pleasure to speak with Gigi a few days ago, where we talk about her career, pursuing one's goals and passions, and much more. Hope you enjoy it as much as we did.